Physical capital and availability of the intellectual and social capital of the urban area determine the performance of any city. While intellectual capital indicates the quality of knowledge, communication and social infrastructure determines urban competitiveness. Smart city is a creative concept, which is introduced as a strategic device to encompass modern urban production factors in order to highlight the increasing importance of ICT and environmental capital. Smart cities market aims to provide new generation services and hard infrastructure with help of information and communication technologies. This creative concept is expected to maintain steady growth on global platform, which is a great sign for the world industry.
Smart City Market Synopsis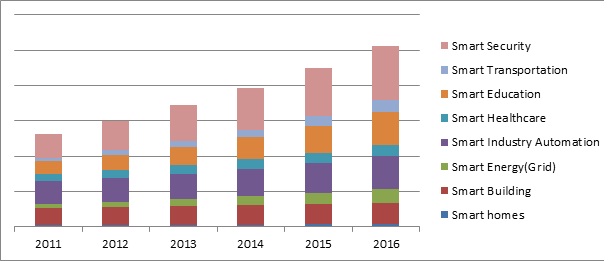 A smart city is differentiated from its other urban counterparts on the basis of its technological advancements, governance, social standards, environmental capitals and economic benefits. Some of the essential components of smart cities include smart security, smart transportation and smart energy management. Increasing environmental consciousness of the governments and citizens are driving the applications of smart cities market. A lot of emphasize is now being given on reducing carbon footprints, which is creating buzz in this industry. Rising standard of living in emerging markets is increasing the rate of urbanization, which is driving the industry further. Investments from various global big players are also contributing to the broadening horizons of the industry.
Segments
Segmentation in smart city market is determined on the basis of the types of services and infrastructural facilities available in smart homes, smart energy management, smart building, smart industrial automation, smart transport, smart citizen services and smart security. Following are the details of the sub-segmentation:
Homes: Lighting, HVAC, energy management, security, entertainment, home health, etc.
Building: Services, systems and information technologies
Citizen Services: Water management, education and healthcare
Security: Critical infrastructure protection, urban security, cyber security and ID management
Industrial Automation: Field devices, industrial control systems, enterprise resource planning, manufacturing execution systems, etc.
Transport: traffic management systems, passenger information, integrated supervision market, parking management and ticketing
Energy management: Smart grid, smart meter, sensors, hardware and software programs, services and ITs
Forecasting
Governmental leadership, IT suppliers, real estate and property developers, utilities service providers, building management systems providers, networking and telecom companies, grid infrastructure service providers and citizen are the biggest stakeholders in smart cities market. According to the market research reports, the global industry for smart cities is expected to grow at an impressive CAGR of over 14% from 2012 to 2016. At this rate, the market is anticipated to become worth $1 trillion by the end of 2016. Growth in smart energy, transportation, security and other similar sub-markets will drive the industry further. Emerging markets and rapid rate of urbanization will also encourage the industry.