Torque is a common standard of performance management and quality of various rotating systems. Measuring torque is vital to check ideal performance of different systems, which has increased the range of applications of these systems across different industrial verticals. This task is carried out with help of torque sensors that use strain gauge to an axle. Growing demand for these systems is a positive sign for the global torque sensor market. Increasing demand and innovative applications are the strongest reasons for the steady rise of this industry. Potential demand and technological advancements are considered as the positive sign for the future of the market.
Overview of Torque Sensor Industry
Management and measurement of torque is a vital factor for different rotating machines. As a result, these sensors are suitable to be used for measuring different types of engines, crankshafts, gearbox, bicycle crank, rotors, transmission, and cap torque testers and so on. Growth in torque sensor market is a relief for the businesses holding on to the applications of these systems. These sensor systems help achieving excellent quality of the machines. Excellent quality reflects in excellent performance of the products deployed with these systems. The market is also segmented based on the types of applications, technologies and geographic regions.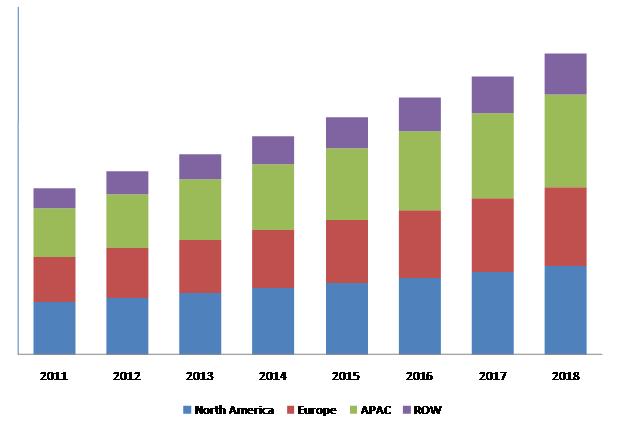 Applications of torque sensor market range across automotive, defense, industrial, medical prosthetics, aerospace and testing industries. Five basic types of torque sensor technologies include rotary, static, IR, SAW, optical and magnetoelastic technologies. Geographically, the industry is segmented into four regions, which include North America, Asia Pacific, Europe and rest of the world. Rapid developments across the aforementioned industries are automatically resulting into increased demand for torque sensor systems in different parts of the world. According to the experts, the industry is expected to witness steady growth for the next four to five years.
Detailed study of the aforementioned segments of the torque sensor market explains that the industry will sustain the existing constraints and competition and keep growing at a CAGR of over 8% from 2012 to 2018. According to the experts, within next four to five years, the market is anticipated to become worth $1,427.78 million by the end of 2018. In 2012, the market was worth $869.73 million. North America is currently the dominating geographic region in the market. However, growth in emerging markets like Asia Pacific is expected to perform exceptionally well during the forecasting period.
Check out similar posts from Semiconductor Market: http://www.marketsandmarkets.com/semiconductorand-electonics-market-research-87.html