Solid state lighting is a term used for lighting applications that use LEDs, OLEDs or light emitting polymers. SSLs consist of semiconductors to convert electricity into light. Technological developments in the light emitting diodes technology in the last decade have influenced the solid state lighting market. From the limited use as just the indicator lamps, the range of applications for different types of LED lights has increased. This increased range of applications has direct impact on the growing revenue in the global industry for SS lights. Despite the economic complications in the emerging markets, the SSL market is expected to maintain healthy growth, which is a great sign for the manufacturers, dealers and producers of solid state light fixtures.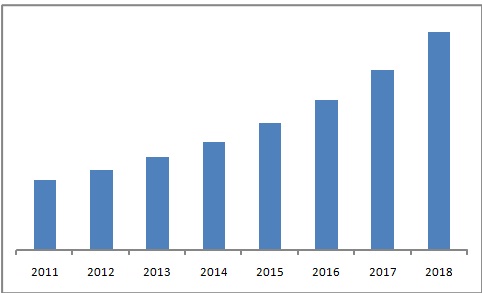 Categorization in Solid State Lights Industry
Basic segmentation in the solid state lighting is base on the types of lights, applications and demand pattern across various geographical regions. Based on geographical regions, the SSL market is segmented into North America, Europe, Asia Pacific and rest of the world (RoW). Based on lighting types, the industry is categorized into light emitting diodes (LEDs), organic light emitting diodes (OLEDs) and Polymer light emitting diodes (PLEDs). The market is also divided based on the types of materials used for each level of packaging for all the types of solid state lights. For instance, LED lights at die, package, and module and luminaries level. Applications of SS lights include backlighting, automotive lighting, general lighting and medical lighting.
Market Trends and Forecasting Reports Until 2018
Solid state lights have evolved from various conventional lighting technologies, including CFL, CCFL to LED lights. The major restraint for the ongoing growth of the industry is in the form of economic crisis in United States of America and slowdown of growth in emerging markets like China, India and Russia, South Africa and Brazil, which are causing negative impact on the global industry. Based on the in-depth analysis of all the segments, current trends, opportunities and restraints in the market, research experts have come up with forecasting reports for the solid state lighting market. Based on their conclusions, the global industry is expected to grow at an estimated CAGR of over 18% from 2013 to 2018. At this rate, the market is anticipated to become worth $56.79billion by 2018.
Asia Pacific region (APAC) is expected to dominate the global industry with total market shares of over 49%, which is followed by North America at over 23% and Europe with over 19%.