Regular starch is modified in order to enhance its performance and increase applications. This modified starch is also known as starch derivative, which is used for increasing the stability of regular starch against different elements like heat, acids, freezing, shear, cooling or time. It helps in changing the texture and viscosity of the starch and its applications. Modified starch is made through different chemical, physical or enzymatic treatments. Global modified starch market has extended range of applications, which is cited to be the greatest reason behind the steady growth in the industry. modified starch industry is expected to maintain a steady growth in the years to come, which is an exciting news for the existing players in the industry.
Modified Starch Market Synopsis
Modified starch is predominantly used for adjusting the basic functionality of the regular starch. Most types of modified starches are substituted and cross-linked and the levels of these processes depend on the end use or application goal of the product. Modified starch market is defined as the processed products that are chemically modified in order to withstand the elemental forces applied during the end-user applications. Cost effectiveness, increasing awareness and enhanced functionalities of the treated starch are the major drivers for the global industry. Basic segmentation in the industry is based on several vital components including the types of raw materials, end-user applications and geographical regions in terms of demand and business prospects in future.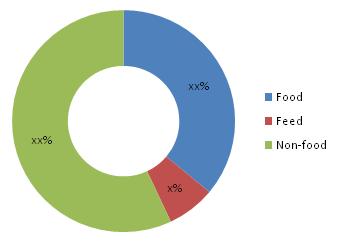 Segmentation and Forecasting
According to the geographical regions, the global modified starch industry is segmented into four basic regions that are further divided on the basis of countries. These four segments include Asia Pacific, North America, Europe and rest of the world. Major countries influencing the world market include United States of America, India, Germany, Brazil and China. Wheat, corn, cassava, potato and such other starch rich natural sources are largely used as the raw materials to derive modified starch. Apart from the types of raw materials, the global industry is also segmented based on the types of end-user applications. Essential applications of modified starch include food, feed and non-food industries.
Food: Brewery, bakery, confectionary and processed foods
Non-Food: Detergent, paper, chemicals and pharmaceuticals
Consumption of modified starch is expected to grow at a steady rate in the years to come. According to the market research reports, the market is expected to grow at an estimated CAGR of 3.5% from 2012 to 2017. The amount of total consumption of these products was 13.15 million tons in 2011, which is expected to grow past 16.28 million tons by 2017. North America is expected to dominate the global market for modified starch, which will be followed by Asia Pacific region, especially the Asian sub continental countries. Increased demand for convenience foods and demand for alternative source of conventional starch will drive the global industry.