4K resolution is a generic term for display devices or content having horizontal resolution on the order of 4,000z pixels. This technology has been designed for digital cinema and computer graphics. It is named as 4K because it has approximately 4000 pixels horizontal resolution. Previous generations of video resolutions were described by the vertical resolution (e.g., 1080p refers to a signal with 1080 vertical lines). With the introduction of 4K in market, users can now receive higher image definition quality, more detailed picture, better fast-action and larger projection surface visibility.
Smart TVs and projectors are expected to bring boom in the 4K market in the next three to four years. 4K resolution products have been on the outlook for several years, but only in the recent times it got the attention of consumers particularly with fall of price spectrum of 4K products. TV manufacturers are now looking for ultra HD with 4K to increase TV sales in the future. The TV manufacturers are also planning to come up with slightly curved screen with 4K which offers a better experience in viewing.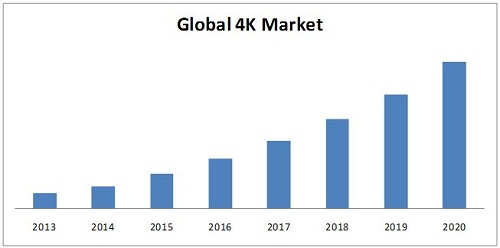 A smart TV has both the features of internet and TV. The users can search the content on web like on demand movies, play games, can store the movies, and so on. The smart TV provides facility to the users in various applications such as internet applications of YouTube, and social networking platforms. Examples of the smart TV are LED9000 series 4K ultra High Definition (HD) SMART TV which provides superior picture quality because of its 4K resolution technology provided by Samsung Corporation (South Korea). Another example is 84LM9600 smart TV provided by LG Corporation (South Korea). Because of the 4K technology used in it, it provides vibrant pictures even when we see it from close distance. Curve TVs are the next future of the smart TV market. Samsung Corporation (South Korea) and LG Electronics (South Korea) are adamant that curved TV screens are the future and will lead the smart TV in couple of years. Curved screens are making their grand entrance into homes everywhere and changing the way of watching TV forever. They are designed to make the audience feel much more involved and immersed in the action. There's a greater sense of depth that makes it all that much more realistic
Projectors when combined with 4K resolution technology provide a different experience such as it is suitable for the cinema industry providing excellent pictures with good quality, in a lounge room walls or any other place where large displays are used for videos. NEC Corporation's (Japan) projector NC3240S also has 4K capabilities and provides good image quality and crisped clear pictures and Sony Corporation's (Japan) VPL-VW1000ES 4K cinema projector.